CH Itoba On Good Authority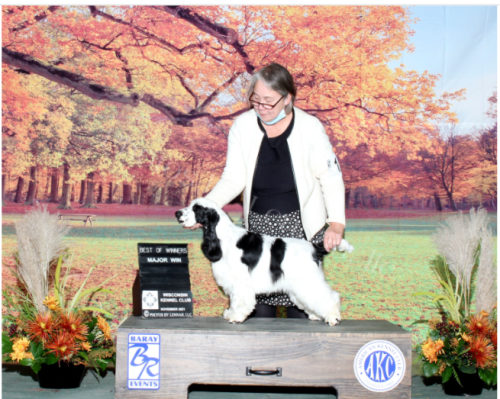 Lala
Sire: Ch. Sapphire Authority
Dam: GCHS Itoba April's Luxury Tax, BCAT, CA
Whelped: February 2, 2021
OfA Hips: Excellent
Patellas: Normal
PRCD: Clear/EMBARK
FN: Clear/EMBARK
EIC: Clear/EMBARK
AMS: Clear/EMBARK
AON: Clear by parentage
Thyroid: Pending
Carries for blue, orange, tan factor and open marked.

Achievements: Lala finished at 10 months of age, with all majors from the BBE Class.  She completed her conformation title at the prestigious AKC National Championship Show.  We look forward to the the future of our pretty black and white girl!
Parents
Grand Parents
Great Grand Parents
GCH Sapphire Authority (BRT)
GCHB Bellflower XLI MVP, ECM (BRT)
GCH Newstead Echoes of Love, ECM

No Photo Available

CH Bellflower With a Wink (BRT)

CH Edgewood Devilish Design (BRT)
Ch. Timeless Traveler ECM (BRT)

No Photo Available

Ch. Edgewood Zigzag (BR)

No Photo Available

GCHS Itoba April's Luxury Tax CA BCAT (BR)

GCH Rafpride Viriato the Lusitan Warrior at Itoba BN RN WD CA (BR)

CH Royale's Hot Shot (Blk)

Rafpride Simply the Best (BR)

GCH Itoba Dynamic If Wishes Were Kisses (BR)

CH Karola's Xerxes BN RN WD JH CGC ECM (OR)

CH Itoba Far Meadow Winsome (BR)