GCH Rafpride Viriato the Lusitan Warrior at Itoba
BN RN WD CA ECM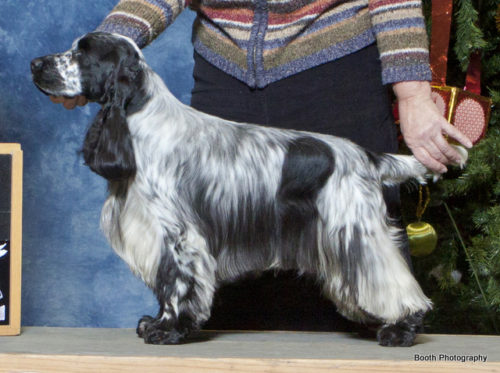 Viriato

 Sire: GCH Royale's Hot Shot
Dam: Rafpride Simply the Best
Whelped: August 9, 2014
OFA Hips: Good
Patellas: Normal
PRCD: Carrier
FN: Clear
BAER: Normal
AON: Clear
Thyroid: Normal
Produces liver and open marked.
Achievements: Viri is a gift from our good friends Tiago and Nuno Rafael, of Rafpride Kennels in Maia, Portugal.  He had a spectacular Baby Puppy and Puppy career in Portugal, with a Best Puppy in Show as well as his BPW and BMW titles.  At his first shows in the US, he won back to back 3 point majors and Best Puppy in the Sporting Group!  Viriato finished in 10 shows with 4 majors, at just over 16 months of age.  Viri has proven himself as a sire of top quality, and recently became an English Cocker of Merit with his 9 champion to finish.  He is the sire of:
BISS GCHS Itoba April's Luxury Tax, CA, BCAT
GCH Itoba Monkey Business CA CGC
Itoba A Night at the Opera FCAT NW1
CH Itoba Happy Camper TKN TKI CGC
CH Itoba Road Warrior BN CDX RE SWN SCN SIA SEA SEE RATS DJ TKI VCD1
Itoba Princess Warrior BN RE AX MXJ OF ACT2 CGC TKI
CH Itoba Caught By Surprise
CH Itoba Taken By Surprise
CH Itoba Hubba Hubba
CH Itoba High Style at Rafpride
CH Itoba Upper Crust
We are honored to become part of the Rafpride family and remain forever grateful for this once in a lifetime dog!
Parents
Grand Parents
Great Grand Parents

GCH CH  Royale's Hot Shot (Blk)


 Eng SHCH/Am CH Bitcon's Let's Dance (BR)


Wiljana Ragamuffin (BR)


Bitcon Summer Storm (BR)

No Photo Available

CH Royale's Slap Shot (BLK)

CH Daisymead's Power Play ECM (Blk)

Royale's Hot Topic (BR)

No Photo Available

Rafpride Simply the Best (BR)


Pt CH Setcolin Over the Rainbow (BR)

Souvenir de Vaccares (BR)

Setcolin Ellelaika (BW)

Pt CH Vianset Mystified (BR)

No Photo Available

Sp CH Vianset Bright Memory (BR)

No Photo Available

Pt CH Vianset Ultraviolet (BR)

No Photo Available